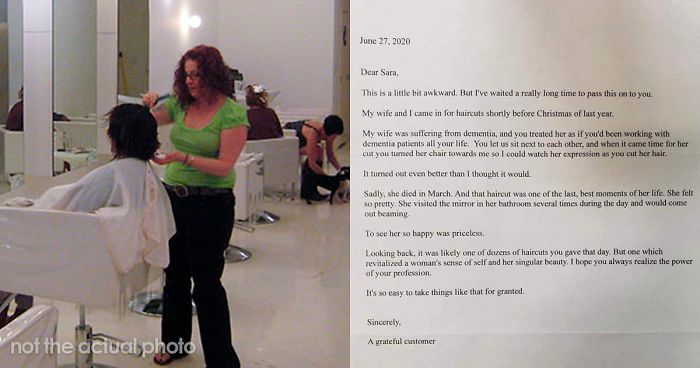 Quarantine allowed us to take some time off from worrying about our appearances. However, to some people, it was a daunting task. Many even decided to protest the quarantine rules and demanded that salons open again, prompting a heated debate with those who prefer safety over haircuts. The only good thing that came out of this argument is that many people started to understand the value of such workers as hairdressers, nail technicians, masseurs, waiters, and so many others.
More info: reddit.com
Recently, a letter written by "a grateful customer" who thanked a hairdresser for the way she treated his wife during a haircut went viral
Let's face it—way too often, people of these trades not only provide us services, but they also give us much-needed human contact. To some, chatting with a hairdresser is the only time they get to have an honest conversation with someone. So if someone says that a hairdresser or a nail technician has changed their lives, you'd better believe them.
Recently, a heart-wrenching letter began circulating around the internet that proves how valuable hairdressers are. While the source of the letter and to whom it was dedicated is unclear, its content has left many people online teary-eyed.
The man revealed that his wife was living with dementia and the way Sara treated her was touching
Image credits: bella3774
June 27, 2020
Dear Sara,
This is a little bit awkward. But I've waited a really long time to pass this on to you.
My wife and I came in for haircuts shortly before Christmas of last year.
My wife was suffering from dementia, and you treated her as if you'd been working with dementia patients all your life. You let us sit next to each other, and when it came time for her cut you turned her chair towards me so I could watch her expression as you cut her hair.
It turned out even better than I thought it would.
Sadly, she died in March. And that haircut was one of the last, best moments of her life. She felt no pretty. She visited the mirror in her bathroom several times during the day and would come out beaming.
To see her so happy was priceless.
Looking back, it was likely one of dozens of haircuts you gave that day. But one which revitalized a woman's sense of self and her singular beauty. I hope you always realize the power of your profession.
It's so easy to take things like that for granted.
Sincerely,
A grateful customer
The letter was written by a man who decided to express gratitude to his late wife's hairdresser and explain what impact she had on the now-deceased woman's life. As it turns out, the man's wife was living with dementia at the time she and her husband visited Sara. The husband expressed admiration for the respect and care Sara showed during their visit and began to explain that the haircut she provided "has revitalized a woman's sense of self and her singular beauty."
Bored Panda readers, have you ever had such an experience with hairdressers? Share them in the comments!
Here's how people reacted