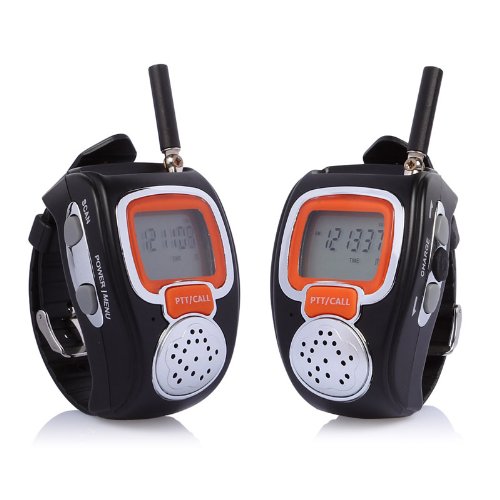 With 6km of range, the wristwatch walkie talkie can offer you the freedom to
go anywhere and do anything–from weekend hiking to just hanging out at a mall.
Have camping with lover? Take this walkie along will be great. The Watch walkie
Talkie is the newest generation in personal two-way communications. It's a
lightweight, compact two-way communication device that can be used to stay
connected with family of friends at parks, shopping mails, sporting events,
concerts-virtually any indoor or out door activity. this wristwatch walkie
talkie can ensure your safety when cell phone signals fade and fall short. Still
holding a walkie talkie in your hand to communicate with your friends? No, you
don't have to now! You can WEAR it just like a watch!
Features:
* Multi-channels
* Auto Squelch; Auto Battery Saving
* Internal VOX
* Auto Channel Scan
* Call alert signal button for urgent calls
* 12 hours AM/PM time display
* Easy and Convenient to use
Specifications:
MIC: Built-in Microphone
Battery: Lithium-Ion Rechargeable Battery
Speaker: Built-in Speaker
Standby: Time 24 Hours
Talk Time: Approx 3 Hours
Scan: Press to enter channel scan
Down: Adjust volume level (default), and makes channel and watch adjustments in
menu mode
Up: Adjust volume level (default), and makes channel and watch adjustments in
menu mode
Power/Menu: Press and hold to turn unit ON/OFF. A quick, single press accesses
the menu and watch setting
PTT/Call: (Multi Function): Press and hold to transmit voice communication.
Press twice in a rapid action to transmit call-tone
Package Content:
2 x Wrist Watches
2 x AC Adaptors
2 x Li-ion 3.7V 600mAh Batteries
2 x Headsets
1 x User manual
6km range to communicate over great distances (optimal conditions)
500mW TX power output for a stronger and clearer signal. Longer range communication in open areas with little or no obstruction. Note: Make sure the battery is not overdischarged. This is rare situation that happens to the radios laid aside over months. These could be repaired by soldering.
Time Display with Back-lit LCD, Lithium-Ion Rechargeable Battery, Built-in Speaker
Handsfree VOX Mode, Electronic Volume Control, PTT / Call Tone Function
Unique Wrist Watch Walkie Talkie includes Earbud / Microphone for Handsfree option

Price: [price_with_discount]




Amazon and the Amazon logo are trademarks of Amazon.com, Inc. or its affiliates.