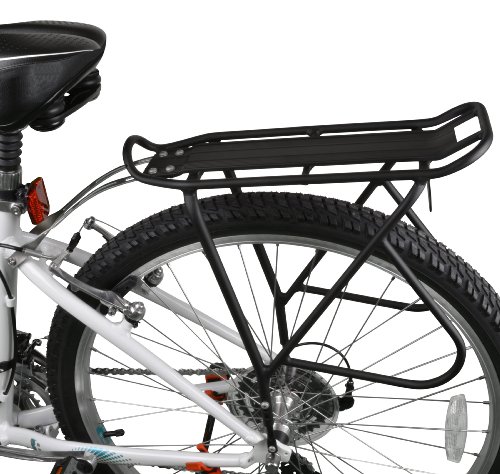 The Ibera PakRak Touring Bicycle Carrier is frame-mounted for heavier top and side loads, carrying up to 25 kg (55 lbs).
It features a top plate that acts as a rear fender and splashguard, and seat stay rods that are length adjustable.
The rods can bend for a customized fit for bicycles that have higher or lower seat stay holes.
SPECIFICATIONS:
Material
Durable lightweight heat-treated aluminum
Features
This rack is compatible with Ibera trunk bags and planet-friendly reusable bags (IB-BA1, IB-BA14, IB-BA15, IB-BA18, IB-BA19) and Ibera panniers (IB-BA4, IB-BA9, IB-BA16, IB-BA20).
Also compatible with strap-attached bags and panniers.
Top plate acts as a rear fender and splashguard for wet conditions
Reflector adapter
Sleek, streamlined profile
For touring and carrying heavier loads.
Note: Please check bicycle to ensure that it has mounting holes on the rear dropout and seat stays.
Mount Type
Frame-mounted for heavier &top side loads
Quick-release bag mounting system (bags not included)
Dimensions
15″ x 6″ x 14″-15″
Adjustable height
Fits most 26″ to 29″ bicycle frames
Load weight
Carries up to 55 lbs (25 kg)
Rack weight
1.65 lbs / 750g
Frame-mounted for heavier top & side loads, carries up to 55 pounds
Ibera PakRak quick-release bag mounting system
Adjustable height, fits most 26″-29″ frames
Top fender board splashguard for wet conditions; Durable lightweight aluminum, only 1.65 pounds
Plus+ allows Ibera trunk and tote bags (IB-BA1, IB-BA2, IB-BA3, IB-BK1) to be simultaneously mounted with Ibera panniers (IB-BA4, IB-BA7, IB-BA9)

Price: [price_with_discount]




Amazon and the Amazon logo are trademarks of Amazon.com, Inc. or its affiliates.